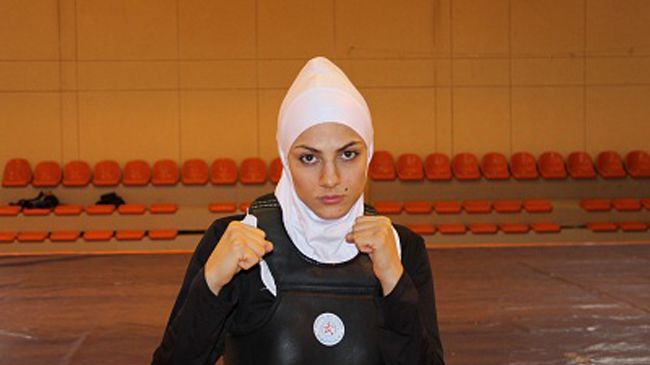 Iran women wushu athletes shine in world contests
Iran female wushu practitioner Maryam Hashemi
Tue Nov 5, 2013 2:57AM
Iranian women wushu practitioners have shown an excellent performance at the 12th World Wushu Championships in the Malaysian capital Kuala Lumpur, and captured three gold medals.
On Monday, Elaheh Mansourian recorded impressive victories in her march to the final at Kuala Lumpur Badminton Stadium, and collected the gold medal in the women's 52-kg category of the Sanda section after she defeated her South Korean competitor.
Maryam Hashemi overpowered her French rival in the women's 65-kg class of the Sanda section, and was awarded the gold medal.
Shahrbanou Mansourian beat her Canadian opponent in the final match of women's 75 kg category of the Sanda section and won the gold medal.
The 12th World Wushu Championships started at the Kuala Lumpur Badminton Stadium on October 28, and will wrap up on November 6. The athletes are competing in Sanda and Taolu sections.
Sanda (sometimes called Sanshou or Lei tai) has all the combat aspects of wushu, but includes many more grappling techniques.
Taolu involves martial art patterns and maneuvers. The forms comprise basic movements (stances, kicks, punches, balances, jumps, sweeps and throws) and can be changed for competitions to highlight one's strengths.