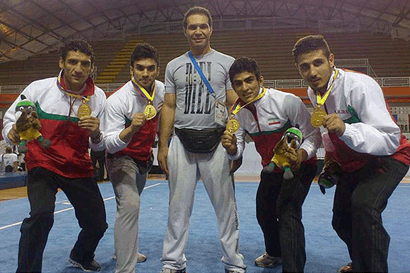 Dazzling performance of Iran Wushu team in the World Games Cali 2013/ four athletes, four Gold medals
Iran Sanda team could beat its components and add three more gold medals to yesterday gold medal which has been taken by Farshad Arabi in Taolu events.
Iran national Wushu team took participates in the world Games Cali with four athletes, three of them attended in Sanda events and one in Taolu.
Mohsen Mohammad Seifi the Sanda athlete in 65 kg, could beat his component from France in final match in two rounds and received gold medal.
Javad Aghayi other athlete in Sanda event triumph against the high performer athlete and ex world champion from China in the final match and got the third gold medal for Iran Wushu team.
The last athlete Hamidreza Gholipour in 85 kg, had though competition with Russia representative in the final game and could beat him in two rounds and achieved the gold medal.
Hossein Ojaghi who was the head coach of Iran national team previously acting as a technical director in Iran Wushu teams and it was his first experience as team head coach, which with these four gold medals could add great achievement to his sport career as a coach.
With these result Iranian Wushu team one more time shows its power to world Wushu.
The official website of the Games, highlighted the Wushu sport attendance in this version and mentioned :" Wushu, is a matter of style. Not only as a millennial martial art, but because of the elegance of its participants, who wear spectacular clothes. Wushu participants are always noticed. They all walk dressed in silk, with colors, sequins and glitter, as in a Calvin Klein or Karl Lagerfeld fashion show in Milan or Paris. Of course, all this, without losing the Chinese or Ancient East cultural traditions. Even, the judges move playfully, on a martial line. "